Offline Web for iPad
Download web pages and view them offline anytime, anywhere.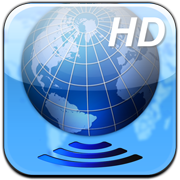 $4.99
Released: July 20, 2011
Category: Productivity
Version: 1.1.0
Size: 1.8 MB
Language: English
Requirements:
Compatible iPad. Requires iOS 3.2 or later.
See also:
Offline Web Pro for iPad

Also available for iPhone:
Offline Web for iPhone
Offline Web Pro for iPhone

Description
Ever wanted to look-up a web page but had no mobile signal or access to Wi-Fi or just didn't want to pay for data roaming charges?

With Offline Web you can a create set of web page bookmarks organized inside a hierarchy of folders, download only those pages you need when you have Internet access and then view them anywhere!

Saves complete web pages including formatting, images and scripts. Also works with other document types such as MP3 audio, PDF, Microsoft Word, Excel, PowerPoint etc.

Web pages are easily managed allowing selective downloading, updating and deletion either singly or as a batch.

Great for traveling or enjoying the great outdoors. Create and download your own set of reference pages before you leave.

Features
create bookmarks for any web page or document
label bookmarks and folder using category, name and description
organize bookmarks and folders in a hierarchy to any depth
display bookmarks and folders in a variety of styles and ordering using category, name and description
includes a built-in web browser from which to view saved pages or to browse and create new bookmarks
includes extensive tools to organize and edit bookmarks and folders
search bookmarks and folders by name or description
selectively save or update only the pages you currently need, singly or as a batch
selectively delete any saved pages you currently don't need, thus saving storage space
saves the complete web page including formatting, images and scripts
supports all types of web documents such as PDF, Word, Excel, images and audio
selectively export sets of bookmarks for import into PRO version
a folder of sample bookmarks is included
Upgrade to Offline Web Pro for additional features:

[PRO] import previously exported bookmarks
[PRO] interoperates with the Safari browser
[PRO] supports a variety of screen color themes
[PRO] supports printing
Screenshots