Jiggity - Jigsaw Puzzles
Play jigsaw puzzles right on your iPad.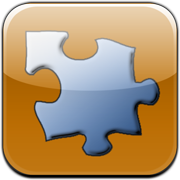 Free
Released: November 12, 2011
Category: Games
Version: 1.0.0
Size: 68.4 MB
Language: English
Requirements:
Compatible iPad. Requires iOS 3.2 or later.
Description
Play jigsaw puzzles right on your iPad. Great family fun for all ages! Your best time for each puzzle is tracked so you can compete against yourself and others.

Select from over 100 beautiful photographs in categories such as Landscapes, Flowers, Animals and Buildings. Just choose the photograph and the style and number of your puzzle pieces and start playing! Multiple games can be saved and resumed at a later time.

Includes 252 piece puzzles and the especially difficult square style pieces for the experts. Also 20 piece puzzles that are great for children.

Features
over 100 beautiful photographs
3 different puzzle sizes: 20, 108 and 252
2 different puzzle piece styles: classic and square
thats over 600 unique puzzles to play!
photographs are arranged by category
search for photographs by name and description
Screenshots